---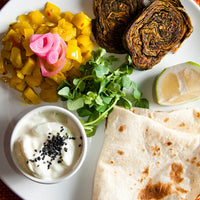 Taro leaf & masala roll ups with tzatziki, apple atchar & flatbread.
3 slices pata/person. Serve as plates or make into wraps. Great for parties. Great with our sweet chilli chicken.
Pata leaves (taro), wheat flour, chickpea flour, corn, fruit, onion, lemon juice, vinegar, spices, chilli, milk, salt, sugar, garlic, tamarind. Tzatziki - yoghurt, cucumber, garlic. Atchar - apple, onion, rice vinegar, chilli, sugar.